Description

Measurement of progressive lenses is fast and easy, with data presented clearly by a unique graphic display.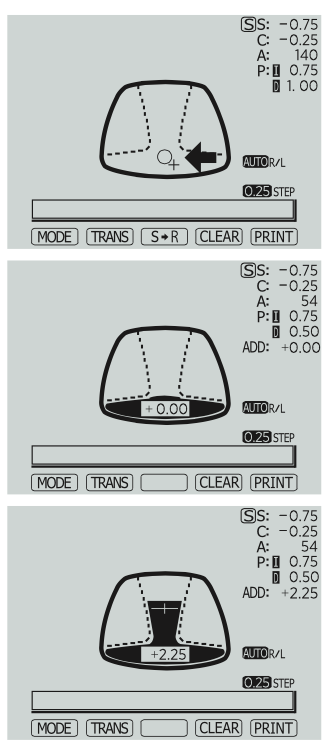 The CL-100 automatically distinguishes a progressive lens and shifts the display to an hourglass representation; simply align the lens with the (+) target.
As soon as the target is properly aligned, the lower section of the hourglass display darkens, indicating readiness to measure lens near power.
Move the lens table to align the glasses for measuring the near section of the lens. With multi-focal lenses, the column fills until a horizontal line appears, indicating establishment of the maximum prescribed ADD power. Now simply press the memory button to complete lens measurement, and repeat the procedure for the second lens.

Expanded Display of Measurement Data
S.C.A. data can be displayed in larger figures for faster, easier observation. Simply select Expanded or Normaldata display from the Menu Box.
Data Record Indicator
The CL-100 gives an audible indication when lens data is stored into memory.
Menu Selection of Adjustment/Mode
Selection of all functions is quick and simple thanks to a menu of choices displayed on the monitor and an array of clearly marked buttons just below.