Tomey TL-2000C Intermediate
The TOMEY TL-2000C Auto Lensmeter is designed for fast & easy operation. The 5.7 inches monochrome touch panel makes it easier to operate for everyone. In AUTO mode, the readings are automatically held when the lens is properly aligned. Multi-Focal lense are automatically detected by TL-2000C and alignment system guides you to correctly position the lens. The monochrome touch panel display is clearly visible in virtually all environments. Prism can be displayed in rectangular coordinates, polar coordinates or displacement form the optical center. The Abbe number can be adjusted to examine high index lenses. The results can be printed with the built -in printer. The TL-2000C is equipped with an RS-232C port for data transmission to a computer.
Direct From The Manufacturer
This unit it certified new and will ship directly from the manufacturer. Original packaging, user manuals, and warranties are included.
2 Year Limited Warranty
This unit qualifies for our 24 Month Warranty Policy. Learn more about warranty policies by visiting our Warranties page.
3 in stock (can be backordered)
Description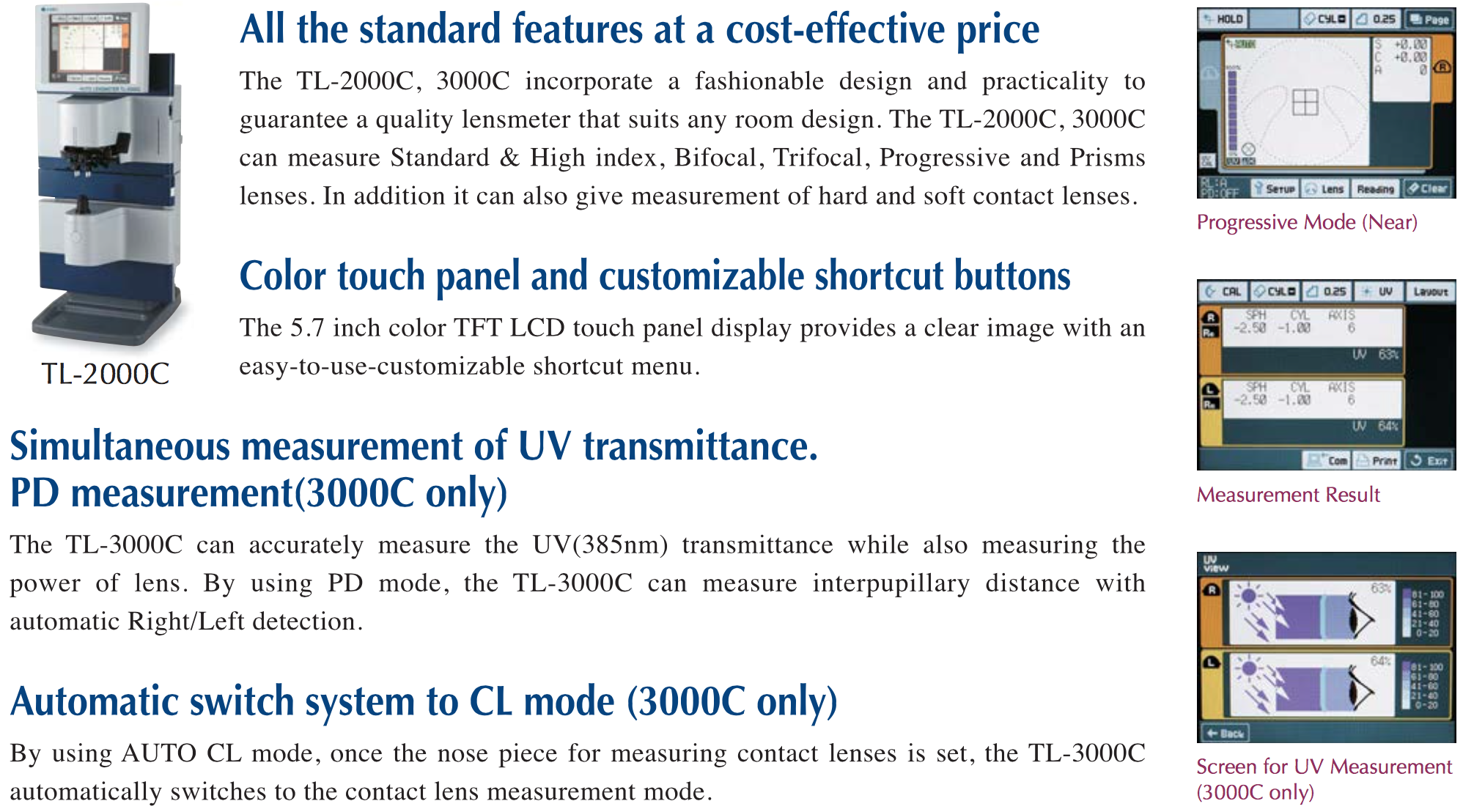 Additional information
| | |
| --- | --- |
| Weight | 13.2 lbs |
| Spherical Power | +_ 25D |
| Cylindrical Power | +_ 10D |
| Axis Angle | 0 to 180° |
| Additional Power(ADD) | -2 to 10D |
| Prism Power | 0 to 10△ |
| Increment (Diopter) | 0.01/0.12/0.25D |
| Measuring Time | .035 Seconds |
| Interpupillary Distance | 50 to 86mm(step:0.5mm)(3000C) |