Description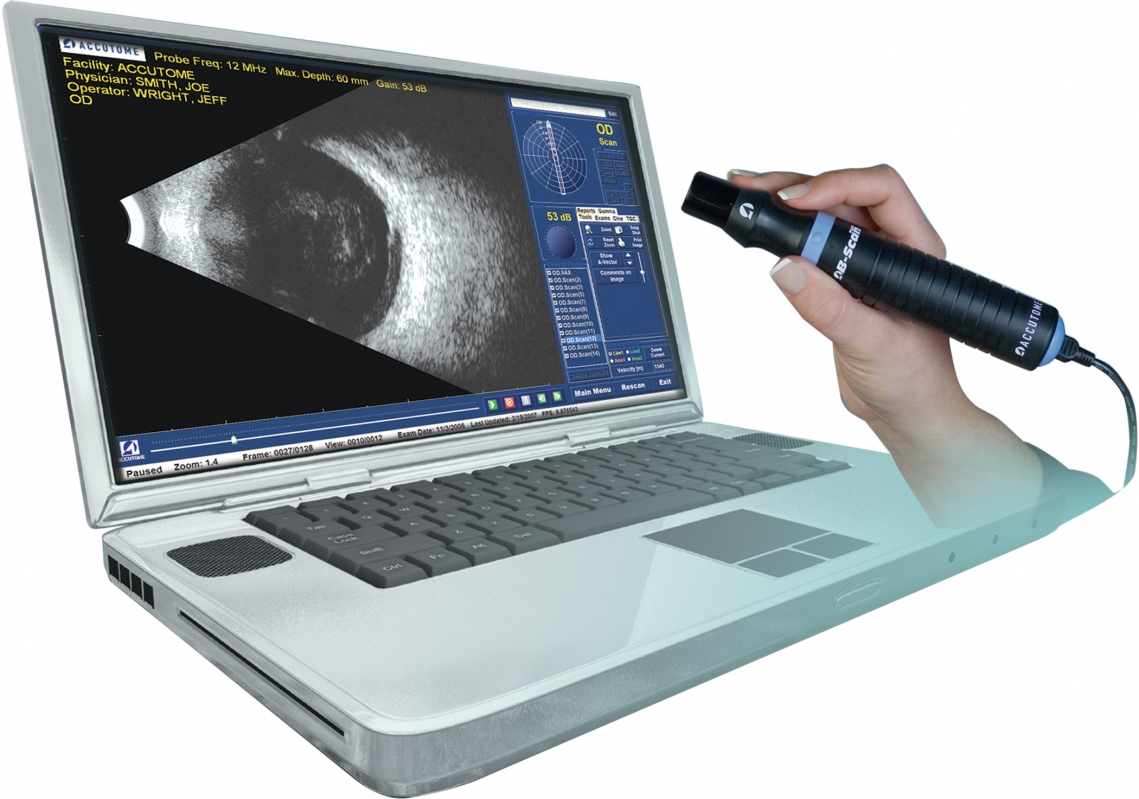 The B-Scan Plus' proprietary software combined with unique probe electronics make it the only portable High Definition B-Scan. While developing the B-Scan Plus software, Accutome visited many of the top facilities around the world. The results are a reliable and easy-to-use unit, which can quickly scan patients and transport information.
Image is Everything – 0.015 mm resolution is the highest in the medical industry.

 State-of-the-Art Probe Design – Sharper, more focused images due to the elimination of signal loss.

 Unsurpassed Data Analysis – Contains 4 useful measuring tools along with corresponding A-Vectoring for diagnosing ocular pathologies.

 "Smooth Zoom" Technology – The only unit with 2x full image zoom without distortion of real-time or captured scan.

 Portable – Plug probe into any laptop or PC and go.*

 Never Miss an Image – Unlimited 34 second film loops.

 Share Information Easily – Adaptable document transfer via EMR, email or printer.

 Compact File Storage – Unsurpassed by the competition.

 Protect Your Investment – Easily upgradeable software.

 Master in Minutes – User-friendly interface makes user manuals and quick start guides unnecessary.
* Certain Computer Specifications Required.
Technical Specifications
Frequency(MHz)
12 or 15 MHz
Axial Resolution
.015mm Electronic
Lateral Resolution
.085mm Electronic
Gain (dB)
0-112 dB
Adjustable Gamma
Linear, S-Curve, Log, Color
Scanning Angle (°)
60
Field of View (Depth in mm)
12 M

H

z = 64mm     15M

H

z = 52mm

Frame rate per second
15, 30 max

Sampling rate

 

(points per line)

2048
Vectors per frame
256
Focal point (mm)
22mm
Focal Zone  (mm)
20mm
TGC
Yes
Frozen image gain adjustment
Yes
ZOOM (x)
2x optical zoom, 8x Maximum
Reports
Integrated Microsoft Word

™

Snapshot (still image) format
Jpeg, bmp, png, tiff
Data Archive/Export capability
Yes
Max. number of frames per scan
256
Size of cine loop (MB)
16 to 128 MB
Measurement Calipers w/ velocity adjustment
4 line, 2 area, 2 angle
Probe Specs
Size
7″ long x 1.25″ diameter
Weight
6oz.
Accessories
Durable traveling case, probe holder,
footswitch, wireless mouse